Cultural Treasures Of Japan
16 days, May 16 – 31, 2020
Arranged and guided by Collette Vacations
Escorted by Doug Jackson
Become immersed in the ancient and modern cultures of Japan. Experience the electrifying city of Tokyo with views from Tokyo Tower. Learn the art of the tea ceremony, and stand before the famous Senso-ji Buddhist temple. Tour Matsumoto Castle, known as the Crow Castle for its black exterior. Taste legendary Hida beef and sip sake at a local brewery. Delve into Kyoto, the marvellous cultural capital of Japan. Absorb the beauty of the Golden Pavilion and the majesty of Nijo Castle. Ride the Shinkansen bullet train to Hiroshima to visit Shrine Island and the Peace Memorial Museum. Japan slowly draws you into its eclectic culture and charm, revealing incredible moments every step of the way.
Day 1, Saturday, May 16
Depart home, board overnight flight
Following our at-home-pickup-service, we transfer to the Vancouver Airport and depart this afternoon aboard Japan Airlines' overnight flight, non-stop to Tokyo, Japan.
Day 2, Sunday, May 17
Flight arrives Tokyo, transfer to hotel
Arriving in Tokyo this afternoon, we begin a four-night stay at the Grand Nikko Tokyo Daiba. This evening is at leisure.
Day 3, Monday, May 18
Tokyo, introductory tour, leisure time
Following breakfast at our hotel, we enjoy an introductory walking tour followed by an afternoon at leisure, before this evening's welcome dinner. Meals BD
Day 4, Tuesday, May 19
Tokyo touring
Feel the excitement start to build as you pass by the grounds of the Imperial Palace and see the Niju Bridge and Sakurada Gate, the well-known symbols of the Imperial Palace. Walkthrough Ginza, one of the most elegant and luxurious streets in the world, where modern landscape meets rich history. Enjoy shopping at some of the most renowned department stores in Japan. Later, amid a lush forest outside of Tokyo, visit the Meiji Shrine, dedicated to Emperor Meiji and his wife, Empress Shoken. This evening is at leisure. Meals B
Day 5, Wednesday, May 20
Tokyo touring
Begin the day exploring Asakusa, Tokyo's oldest Geisha district. Visit the famous Buddhist temple, Senso-ji, the colourful temple famous for the red chochin (lantern) hanging at the entrance gate. Experience the longstanding tradition of the Japanese tea ceremony, dating back to the 15th century. During your free time, explore the Nakamise Shopping Arcade and feel the energy of the oldest shopping street in Japan. Then, continue to Edo Tokyo Museum to learn about the fascinating history and culture of Tokyo. The museum displays life-size and scale model replicas of towns and buildings of old Tokyo. Meals B
Day 6, Thursday, May 21
Tokyo to Hakone
Today we journey to the lakeside resort of Hakone, renowned for its hot springs. In the shadow of Mt. Fuji (UNESCO), this scenic town hugs the shorelines of Lake Ashi. We stop at Owakudani, located in an active volcanic zone. The Owakudani crater was created some 3,000 years ago when Mt. Hakone erupted. We board the Hakone Ropeway, an aerial cable car descending from Owakudani for a breathtaking view (weather permitting) of Mt. Fuji. Next, cruising the deep-blue waters of Lake Ashi, we'll see epic views of the local mountains. Stopping in the charming town of Moto-Hakone, we overnight at Odakyu Hotel de Yama. Meals BD
Day 7, Friday, May 22
Hakone – Matsumoto – Takayama
Today begins at Matsumoto Castle, known as the Crow Castle because of its striking black exterior. Following lunch at a Soba noodle shop, we step back in time in the rural Edo-period town of Takayama, nestled in the Japanese Alps. Well known to the locals for its connection to sake, this is the perfect place to gather for a visit to one of Japan's 200-year-old sake breweries. After checking-in for two nights at the Takayama Green Hotel, we experience a Japanese epicurean treat – traditional rice wine paired with a special Hida beef dinner. Our Meals BLD
Day 8, Saturday, May 23
Takayama touring
The ancient cultures of Takayama come alive this morning in the town's historic district. Take a walk through the past and glimpse the 19th-century Jinya government building. Stroll through the morning market located along the Miyagawa River, a 600-year-old open-air market with locally grown and produced products. Circuit the winding streets, where the town's traditional charms are preserved in the inns and houses. This afternoon is at leisure to further explore Takayama. Meals B
Day 9, Sunday, May 24
Takayama – Shirakawa-go – Kanazawa
Today, embrace the unique charms of Shirakawa-go (UNESCO). Hidden away in the mountain, this harmonious village is famous for its gassho-zukuri-style houses – thatched-rooftops designed to resemble two hands joined in prayer. Travel to Kanazawa, the origin of gold-leaf making since the 16th century. Visit the Samurai district where we will enter the former home of the Nomuras, a wealthy samurai family who served the ruling Maeda family. Then, travel to the Geisha quarters of Kanazawa, the Higashi Tea district. Our home tonight for two nights is the ANA Crowne Plaza Kanazawa. Meals BD
Day 10, Monday, May 25
Kanazawa touring
More than 25 acres of absolute beauty awaits us today at Kenrokuen – Garden of Six Qualities. From Japan's most stunning garden, dive into the ancient craft of gold leaf making during a hands-on lesson in decorating your own lacquer box at Kanazawa Katani. Following a visit to the Omicho fish market, this afternoon is at leisure to explore on our own. Meals B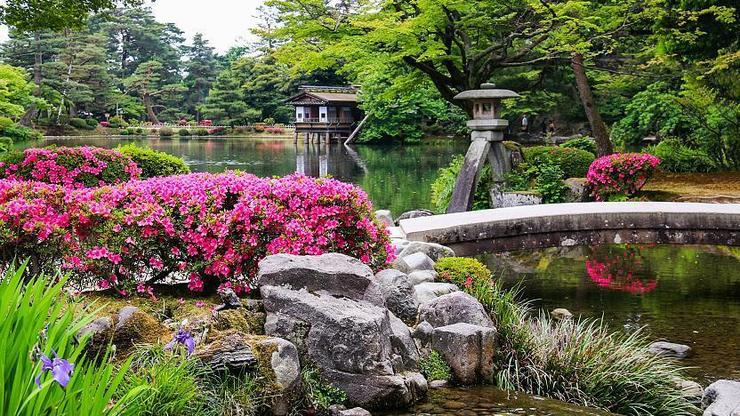 Day 11, Tuesday, May 26
Kanazawa to Kyoto
Kyoto awaits! The former Imperial capital of Japan is now one of the nation's top cosmopolitan cities, but the connection with its past is strong; you won't need to look far to see one of its 2,000 temples and shrines. Arriving in Kyoto for lunch, we participate in a sushi-making class – given by a professional sushi chef – and master the art of sushi making. This afternoon, visit Kinkakuji (UNESCO), the Golden Pavilion, a Zen temple with its top two floors completely covered in gold leaf. We begin a five-night stay at the Kyoto Tokyu Hotel. This evening is at leisure. Meals BL
Day 12, Wednesday, May 27
Kyoto, day trip by Bullet Train to Hiroshima
All aboard the Shinkansen bullet train to Hiroshima. Upon arrival, we board a ferry to Miyajima Island, or Shrine Island (UNESCO), where the iconic torii gate and the Itsukushima Shrine appear to float on water. Afterwards, we head into Hiroshima city to visit the Peace Memorial Park, pause to see the ruined Atomic Dome (UNESCO) and reflect at the Peace Memorial Museum. Following free time for dinner, we depart Hiroshima by the Shinkansen bullet train and return to Kyoto. Meals B
Day 13, Thursday, May 28
Kyoto touring
This morning, we tour Fushimi Inari Taisha, the most revered shrine of Inari. Follow the spectacular rows of orange torii (made famous in the movie Memoirs of a Geisha) that weave through the forest, leading you to the inner shrine. Move on to the home of the first Shogun, Nijo Castle (UNESCO), and see intricate woodcarvings, wall paintings, and the Ninomaru Garden, designed by Kobori Enshu, a landscape architect and tea master. Next, visit Marumasu Nishumuraya for a lesson in the art of stencilling at a traditional Kyoto townhouse. Meals B
Day 14, Friday, May 29
Kyoto, visit Osaka Expo'70 Park
Today on the outskirts of nearby Osaka, we visit the Expo'70 Commemorative Park built on the site of the 1970 Japan World Exposition. After viewing the park's famous 65-meter high symbol, the Tower of the Sun, we'll visit the Expo Pavilion, and enjoy relaxing strolls through the spacious Natural & Cultural Gardens and the beautifully landscaped Japanese Garden. Returning to Kyoto, we'll have some leisure time at our hotel, before tonight's immersion in Japanese culture - a Kaiseki dinner and Geisha show. Meals BD
Day 15, Saturday, May 30
Kyoto, a day at leisure
Today, we're at leisure to relax and explore Kyoto on our own. Meals BD
Day 16, Sunday, May 31
Kyoto to home
After breakfast, we transfer to Osaka's Itami Airport to board Japan Airlines' afternoon flight with via Tokyo to Vancouver. Transfers included from the Vancouver Airport to home. Meals B
CULTURAL TREASURES OF JAPAN
Special Diets
This tour provides authentic dining experiences. Vegan, vegetarian, and even gluten-free diets are uncommon in Japan and not widely catered to. If you have any dietary restrictions, please notify us at time of booking so we can accommodate you as best as possible.
Activity Level
To truly experience the program and destination, you need to be able to participate in physical activities such as longer walking tours, walking over uneven terrain, climbing stairs and periods of standing. Some of the touring days may be longer, with select included activities occurring later in the evening.
Documents
Japan requires that a Canadian passport be valid until June 1, 2020. However, we recommend having a passport with seven-month validity for all travel outside Canada – valid until December 31, 2020, for this tour.
Tour Includes
Airfare & taxes, Vancouver to Tokyo with return from Osaka
Air-conditioned motorcoach transportation
Gratuities to drivers and guides
At home pickup and return (lower mainland)
Hotel accommodations, baggage handling
22 Meals (14 breakfasts, 2 lunches, 6 dinners)
All attractions as described in brochure
Collette Insurance (see below)
Tour Price (Canadian Dollars)
Each person, 2 sharing room...........…$10,890
Single………………………...............…$13,380
Deposit Due: $900 per person, 10 days after reservation
Balance Due: Feb 28
Collette Vacations
Waiver & Insurance Plan
(included with your tour)
Payments for this tour are fully refundable until November 12. After November 12, in the event of cancellation for any reason prior to the day of departure, the Collette Cancellation Waiver, which is included with this tour, guarantees a full refund of all payments, less a cancellation fee of $400. On the day of departure, the cancellation fee is 100% of the total price unless the cancellation is for a medical reason supported by a doctor's letter, in which case only the $400 cancellation fee will apply.
The plan does not cover any single supplement charges. If your travelling companion cancels, you may continue by paying the single supplement, or cancel and receive a refund less the cancellation fee. After departure, the plan provides transportation home and a refund of unused services, if you are forced to cancel due to personal illness, or the personal illness or death of an immediate family member. You, your travelling companion, and any immediate family member booked to travel with you must be medically capable of travel when you pay your deposit.
The Collette plan also includes medical coverage without exclusions due to age or pre-existing medical conditions. Please note that you must have valid hospital and medical insurance under a Government Health Insurance Plan of a Province or Territory of Canada. For full details, please review the Description of Coverage information for the Collette Cancellation Waiver & Insurance Plan.
Guarantee
Jackson Tours Inc is a registered tour operator in the Province of British Columbia, registration #1347. Deposits by BC residents are secured by the British Columbia Travel Assurance Fund, through Consumer Protection BC.
Jackson Tours is a member of the Better Business Bureau of Mainland British Columbia.
Credit Cards
We do not accept credit card payments. Avoiding credit card fees, allows us to put more value into your tour. Your personal cheque is welcome.
At Home Service,
Door-to-Door Pickup and Return
Service included throughout the lower mainland from Chilliwack to Vancouver.
Jackson Tours at Roblin Travel Service
#102B – 45793 Luckakuck Way, PO Box 428
Chilliwack BC V2P 6J7
Toll-free phone: 1-800-541-8687
Chilliwack phone: 604-858-9481
Email: info@jacksontours.ca
Terms, conditions and restrictions apply; pricing, availability, and other details subject to change and/ or apply to US or Canadian residents. Please confirm details and booking information with your travel advisor.