Hawaiian Holiday
Three Islands – Oahu, Kauai, & Maui
11 days, March 11 – 21, 2020
Arranged and guided by Collette Vacations
Escorted by Doug Jackson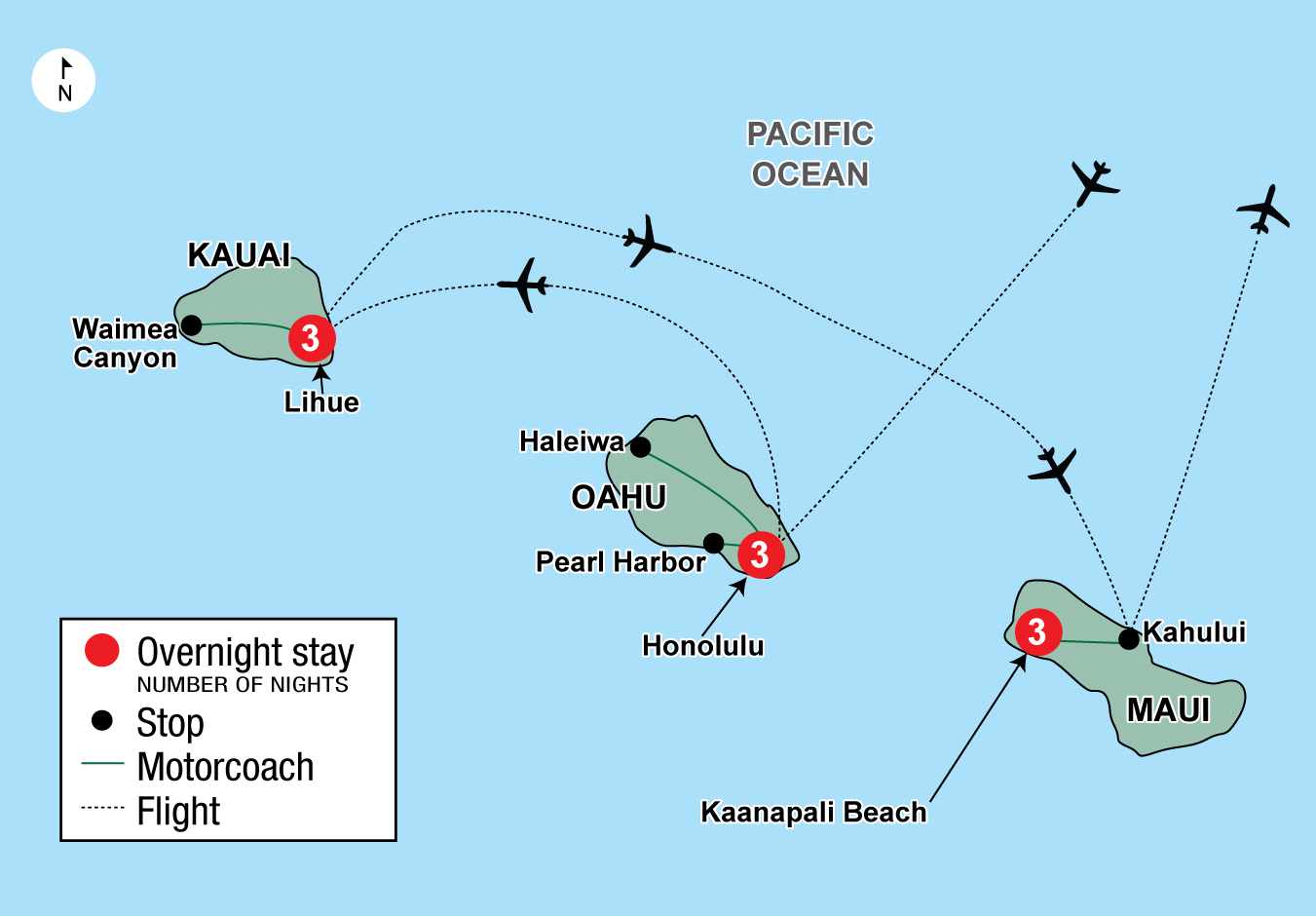 A relaxing vacation in the tropical paradise of Hawaii, combining sightseeing and leisure time during three-day visits to the islands of Oahu, Kauai, and Maui! Highlights include Oahu's famous Waikiki Beach and its legendary North Shore, Kauai's stunning Waimea Canyon and its tranquil Wailua River, and Maui's historic Lahaina town, its lush Tropical Plantation, and its traditional Polynesian luau.
Day 1, Wednesday, March 11
Home to Vancouver Airport
This afternoon, following our at-home-pickup-service, we travel to Richmond for an overnight stay at the Pacific Gateway Hotel. Meals D
Day 2, Thursday, March 12
Fly to Honolulu, Island of Oahu, Hawaii
This morning we transfer to the Vancouver Airport for our non-stop flight with WestJet to Honolulu, on the island of Oahu. Our Honolulu home for three nights is the Hyatt Regency Waikiki Resort, on popular Kalakaua Avenue directly across from the famous Waikiki Beach!
Day 3, Friday, March 13
Oahu, Pearl Harbor & city tour
This morning, visiting the Pearl Harbor National Memorial, we learn about the 1941 attack on Pearl Harbor, one of the most pivotal moments in US history. Our morning continues with a city tour of Honolulu highlighting the historic Iolani Palace, the impressive state capital building, King Kamehameha's statue, and the National Cemetery of the Pacific, known as the Punchbowl. Returning to Waikiki, the remainder of the afternoon is at leisure. Meals BD
Day 4, Saturday, March 14
Oahu, visit the North Shore
Departing bustling Waikiki, we enjoy the serenity of pineapple fields in Oahu's central plateau and continue to the famous North Shore, where surfers gather to hit the wild surf of Waimea Bay, Sunset Beach, and Ehukai Beach, home of the Banzai Pipeline. In the town of Haleiwa, the north shore's social and artistic hub, we stop for lunch and browsing among its sugar plantation-era buildings. Returning to Waikiki, the rest of the afternoon and evening are at leisure. Meals B
Day 5, Sunday, March 15
Depart Oahu, fly to Kauai
Today begins with a half-hour flight to Kauai, the Garden Isle, which offers some of the state's most stunning scenery. Upon arrival, our motorcoach climbs to the 3400-foot level of Waimea Canyon State Park. Here at the Grand Canyon of the Pacific, we behold a panoramic view of the 10-mile series of deep, brilliantly hued gorges, cut into the Kokee plateau. Visiting Hawaii's largest coffee estate, we learn of the coffee bean's journey from tree to cup and sample the finished product. This afternoon we check-in for a three-night stay at the oceanfront Kauai Marriott Resort, which overlooks Kalapaki Beach on Nawiliwili Bay. Meals BD
Day 6, Monday, March 16
Kauai, exploring the scenic North Shore
Departing this morning from our east shore hotel, we travel Kauai's verdant north shore with views of white sand beaches, lush jungles, tropical flowers, and waterfalls cascading down the mountainsides. You may recall scenes from Hollywood Movies, as we make stops at picturesque Hanamaulu Bay, Lydgate Beach, Opaekaa Falls, and Kilauea Lighthouse. Reaching the island's northern tip, we pause for lunch in the charming town of Hanalei, before returning to our hotel for an evening at leisure. Meals BLD
Day 7, Tuesday, March 17
Kauai, Wailua River Cruise
This morning, boarding an open-air boat we cruise along the tranquil Wailua River, to the famous Fern Grotto, where a short guided walk brings us to an enormous cave naturally laden with thousands of Maidenhair ferns. Hula dancers demonstrate their ancient art form as our boat returns to the dock. This afternoon is at leisure to enjoy our beautiful resort. Meals B
Day 8, Wednesday, March 18
Depart Kauai, fly to Maui
Today we fly from Kauai to its beautiful neighbour island of Maui, the Valley Isle. Upon arrival, we visit Maui's lush Iao Valley State Park, dominated by an iconic 1200-foot volcanic pillar - the Iao Needle. Stopping for lunch in the historic whaling village of Lahaina, we stroll among bustling shops and restaurants, perched on the edge of the blue Pacific. From Lahaina we travel through sugarcane fields to the resort area of Kaanapali, to begin a relaxing three-night stay at our deluxe beachfront hotel, the Hyatt Regency Maui Resort. Meals B
Day 9, Thursday, March 19
Visit Maui's Tropical Plantation
This morning we visit Hawaii's agricultural showcase, the Maui Tropical Plantation. Surrounded by farmland and a backdrop of the West Maui Mountains, we'll board the Tropical Express tour tram to learn about Hawaii's major crops: sugar, pineapple, banana, coffee, papaya, and guava. We'll enjoy time to visit the plantation's little coffee house and ice cream shop and browse the Plantation Store, before returning to our Kaanapali Beach hotel for an afternoon and evening at leisure. Meals B
Day 10, Friday, March 20
Maui, a day at leisure
Today is at leisure to relax and enjoy the facilities of our oceanfront hotel, or perhaps visit nearby Whaler's Village, a beachside mall with over 70 shops and restaurants. Tonight we complete our vacation with a traditional Polynesian luau; tropical drinks, dinner, and a performance of authentic songs and dances that have influenced Hawaiian life and customs for centuries. Meals BD
Day 11, Saturday, March 21
Homeward bound, fly Maui to Vancouver
Following a leisurely breakfast at our hotel, we transfer to Maui's Kahului Airport, to board WestJet's mid-afternoon flight, non-stop to Vancouver. Meals B
HAWAIIAN HOLIDAY
Documents
Hawaii requires that a Canadian passport be valid until March 22, 2020. However, we recommend having a passport with a seven-month validity for all travel outside Canada – valid until October 21, 2020, for this tour.
Tour Includes
Airfare & taxes, Vancouver to Honolulu with return from Kahului
Airfare & taxes, two Inter-Island flights
Air-conditioned motorcoach transportation
Gratuities to drivers and guides
At home pickup and return (lower mainland)
Hotel accommodations, baggage handling
15 Meals (9 breakfasts, 1 lunch, 5 dinners)
All attractions as described in brochure
Collette Insurance (see below)
Tour Price (Canadian Dollars)
Each person, 2 sharing
Standard hotel room.................$8,190
Each person, 2 sharing
Ocean-view hotel room.............$8,980
Single person
Standard hotel room...............$12,990
Single person
Ocean-view hotel room...........$14,990
Deposit Due
$900 per person, 10 days after reservation.
Balance Due
Dec 27
Collette Vacations Waiver & Insurance Plan (included with your tour)
Payments for this tour are fully refundable until November 4. After November 4, in the event of cancellation for any reason prior to the day of departure, the Collette Cancellation Waiver, which is included with this tour, guarantees a full refund of all payments, less a cancellation fee of $300. On the day of departure, the cancellation fee is 100% of the total price, unless the cancellation is for a medical reason supported by a doctor's letter, in which case only the $300 cancellation fee will apply.
The plan does not cover any single supplement charges. If your travelling companion cancels, you may continue by paying the single supplement, or cancel and receive a refund less the cancellation fee. After departure, the plan provides transportation home and a refund of unused services, if you are forced to cancel due to personal illness, or the personal illness or death of an immediate family member. You, your travelling companion, and any immediate family member booked to travel with you must be medically capable of travel when you pay your deposit.
The Collette plan also includes medical coverage without exclusions due to age or pre-existing medical conditions. Please note that you must have valid hospital and medical insurance under a Government Health Insurance Plan of a Province or Territory of Canada. For full details, please review the Description of Coverage information for the Collette Cancellation Waiver & Insurance Plan.
Guarantee
Jackson Tours Inc is a registered tour operator in the Province of British Columbia, registration #1347. Deposits by BC residents are secured by the British Columbia Travel Assurance Fund, through Consumer Protection BC.
Jackson Tours is a member of the Better Business Bureau of Mainland British Columbia.
Credit Cards
We do not accept credit card payments. Avoiding credit card fees, allows us to put more value into your tour. Your personal cheque is welcome.
At Home Service, Door-to-Door Pickup and Return
Service included throughout the lower mainland from Chilliwack to Vancouver.
Jackson Tours at Roblin Travel Service
#102B – 45793 Luckakuck Way, PO Box 428
Chilliwack BC V2P 6J7
Toll-free phone: 1-800-541-8687
Chilliwack phone: 604-858-9481
Email: info@jacksontours.ca
Terms, conditions and restrictions apply; pricing, availability, and other details subject to change and/ or apply to US or Canadian residents. Please confirm details and booking information with your travel advisor.